Welcome to the Winnipeg Renovation Show!
As the weather grows cold, winter is the perfect time to tackle those at-home projects and refreshers before the arrival of spring. Now more than ever, our homes need to adapt to our ever-changing lifestyles without breaking the bank. With real advice, real inspiration, and real experts, we've handpicked the industry's best, from top celebrity guests and homegrown Winnipeg talent alike.
This year, we're thrilled to welcome
HGTV Canada
star Mike Holmes Jr., contractor & co-host of
Holmes + Holmes
, to The Lifestyle Stage presented by
EcoPoxy
where he will make his debut at the Winnipeg Renovation Show and offer up advice, insight, and take you through his personal home renovation journey, highlighting key lessons he learned along the way. Plus, don't miss a slew of Winnipeg's very own top designers and renovation experts including local designer Kristin Hayward of
IDESIGN interiors
by Kristin and Winnipeg's leading renovation experts from
All Canadian Renovations Ltd.
For the first time this year, you can explore some of the best non-permanent and non-damaging home projects with new Show feature Temporary Treatments, designed by
Ivy Row
. Get all the inspiration you need, and practical decor tips, no matter how long you plan to stay in your space!
From there, shop and consult more than 230 trusted brands and local companies, all under one roof. Don't miss the popular Ask a Renovator booth presented by
The Manitoba Home Builder's Association
and
Home Décor and Renovations Magazine
or The Design Studio presented by
Style Manitoba
, designed by
IDESIGN Interiors
by Kristin and sponsored by
Cloverdale Paint
where you'll have the chance to snag a free, one-on-one consultation with a local renovation or design expert. Gather your Pinterest dream boards, paint swatches, and floor plan, and come with an open mind to get the best tips for your time.
Your Project. Our Experts. Bring them together at the
Winnipeg Renovation Show
, January 11-13, 2018 at the RBC Convention Centre. Buy tickets online and save $3 courtesy of
All Canadian Renovations Ltd.
at
www.winnipegrenovationshow.com
. Satisfaction guaranteed - or the price of admission is on us!
We can't wait to see you there.
Jenn Tait, Show Manager
Top Features
THE LIFESTYLE STAGE presented by EcoPoxy and the Winnipeg Free Press, flooring provided by XL Flooring

Expert advice for every home! Get it straight from the source on The Lifestyle Stage, where HGTV Canada's Mike Holmes Jr., contractor & co-host of Holmes + Holmes and local pros alike will present their tips and tricks to get those stalled projects and stalled imaginations moving. It's one part home improvement, one part entertaining, all parts inspiring — the perfect recipe for living well.

ASK A RENOVATOR presented by the Manitoba Home Builders' Association and Home Décor and Renovations Magazine

Aspiring renovators, rejoice: direct access to the city's top home improvement experts is at your fingertips at this year's renovation show! Grab your demo plans and blueprints, and drop in for a free consultation at Ask a Renovator. All it takes is 15 minutes - the ideal amount of time to avert disaster and to start making your dream home come true.

THE DESIGN STUDIO presented by Style Manitoba, designed by IDESIGN- Interiors by Kristin, sponsored by Cloverdale Paint

Do you suffer from style paralysis? Are you stumped on how to turn your house into a home? The experts will see you now! Swing by for a free 15-minute consultation at The Design Studio, where decorator and designer industry pros will help you nail down your design style, craft a home makeover plan, and offer tried-and-true design advice.

M(ART)KET

Dress up those naked walls with a stop at m(ART)ket. Add that much-needed finishing touch to your space with one-of-a-kind pieces from this curated collection of canvases, prints, and photographs by local artists. With 8 featured vendors, including Trish Sanan, Tatum Parsons Art, The Artisans Canvas, Woodlands Gallery and Dmitry Kirshner Fine Art Photography you're certain to say goodbye to your blank walls for good.

TEMPORARY TREATMENTS designed by Ivy Row Design

Having trouble committing to a certain design style? Or maybe you just want to save a bit of work when it comes to your spare spaces. Limitations with painting, nail holes, and remodelling may be holding you back from your true potential… until now! Designed by Ivy Row Design, we've rounded up some of the best non-permanent and non-damaging décor tips – from hanging pieces with command hooks to removable wallpaper. Have a look through this feature to get all the inspiration needed to take your space from woe to WOW, no matter how long you plan to commit to it!

HERO DAY

Join us for Hero Day on Friday, January 11th. In tribute to all active or retired military, police, firefighters, nurses and paramedics, the Winnipeg Renovation Show is offering free admission to all heroes on Friday, January 11th. Bring your valid ID to the box office on Friday, January 11th to claim your free admission ticket.

TEACHERS DAY

Join us for Teacher Appreciation Day on Sunday, January 13th. The Winnipeg Renovation Show is honouring all past and present teachers, academic professionals, and teaching assistants on Sunday, January 13th with FREE admission to the show. Bring your valid MTS card to the box office on Sunday, January 13th to claim your free admission ticket.
Meet the Experts
Mike Holmes Jr.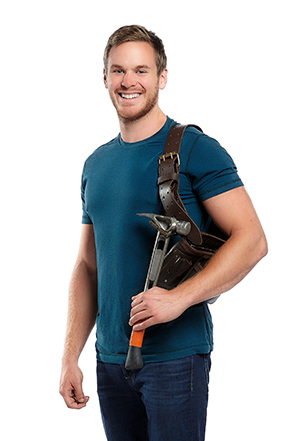 Photo: Courtesy of The Holmes Group
Professional Contractor and TV Host Mike Holmes Jr. of HGTV Canada hit show Home To Win and Holmes and Holmes. After receiving the education of a lifetime by working alongside his father, celebrity contractor Mike Holmes on Holmes and Holmes.
Next up, Mike Jr. will appear in a new series, Next Generation where he teams up with his sister Sherry and dad to rescue homeowners from shady contractors and D.I.Y.projects gone wrong. Mike Holmes Jr. brings his passion for education, and the idea of building a healthy home, and a healthy life to all his work.
See Mike Jr. on the Lifestyle Stage presented by EcoPoxy Friday, January 11 at 7PM and Saturday, January 12 at 1PM Presenting: Renovate It Right
Show Sponsors:
All Canadian Renovations LTD.
Sleep Country
RenovationFind
Cloverdale Paint
EcoPoxy

Media Sponsors:
Style Manitoba
Home Decor and Renovations Magazine
CTV
Global
Winnipeg Free Press

Show Partners:
Manitoba Home Builders' Association
Premier Companies
XL Flooring
IDESIGN interiors by Kristin
Academy Florist
Ivy Row Design
The Vitals
What:
The Winnipeg Renovation Show
Where:
RBC Convention Centre, 375 York Avenue, Winnipeg, MB R3C 3J3
When:
Friday, January 11th Noon – 9:00PM
Saturday, January 12th 10:00AM – 9:00PM
Sunday, January 13th 10:00AM – 6:00PM
RBC Convention Centre, 375 York Avenue, Winnipeg, MB R3C 3J3
How:
Buy tickets online courtesy of
All Canadian Renovations LTD
and save $3 at www.winnipegrenovationshow.com
Admission
Adults (13+): $12.00
Adults (13+): ONLINE $9.00
Seniors (60+): $10.00
Seniors (60+): ONLINE $7.00
Seniors (60+) Friday before 5:00PM $5.00 (Box Office & Online)
Children 12 and under: FREE
Media Contact
For all press-related matters, please contact:
Claire Henwood, Account Lead
Reformation.
604.681.7565 x106
claire@wearereformation.com



Social:
Blog: homeandgardenblog.com
Twitter: @WPGHomeShows #WRS19
Instagram: @WPGHomeShows
Facebook: Home & Garden Events