I'm unable to find my tickets!
You may have your ticket confirmation email resent to you by visiting the following link: https://www.microspec.com/tix123/Resend.cfm

How come 2-for-1 Tickets are Less than Seniors tickets?
No ticket promotions can be combined. Seniors pricing is its own promotion and 2-for-1 tickets only work for adult admission.

Is my ticket good for the whole show?
Yes, your ticket is good for any day of the show, and if you would like to come back to the show an other day, simply visit the Help desk on the 2nd floor on your way out and ask how.

Does my ticket get me access to stage presentations?
Yes! Your ticket allows you to all features of the show including stage presentations.

Where can I park during the show?
Parking is available in the RBC Convention Centre Winnipeg Parkade, meters on the adjacent streets, outdoor parking lots, and indoor parkades, all within minutes of the convention centre. Winnipeg Transit is convenient to the convention centre as well.

Is There a Coat Check?
Yes. The venue offers Coat Check on the 2nd Level at the entrance to the show for a $2 fee.

ATMs, Food Availability, Wheelchair Accessible?
• An ATM is available on the 2nd floor of the RBC Convention Centre Winnipeg.
• Food and beverages are available on site. The convention centre is adjacent to many great restaurants
in the downtown area.
• Yes, the convention centre is fully wheelchair accessible.

Guest Relations
Do you have a question? Looking to find an Exhibitor or what time the next stage presentation is? Stop by our Help Desk, located at booth #726. Our show volunteers will be glad to help.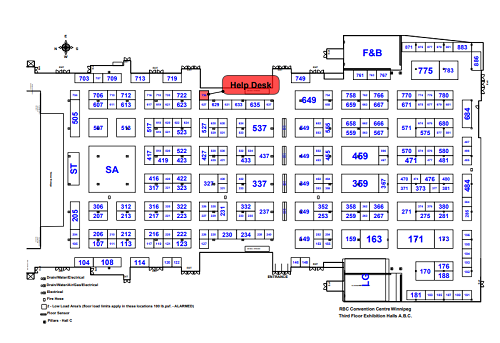 Still don't see the answer you were looking for? ASK US.